Guides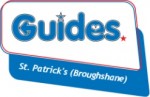 Guides (aged 10-14 yrs) meet on Thursday from 6.45pm to 8.30pm in the Church Hall.
Information about what Guides do can be found on the Girlguiding website www.girlguiding.org.uk
You can register your daughter's interest on the same website and a leader will contact you. We would also welcome adult helpers so that we can take more girls.
For more information please contact Geraldine Linford or any other leader.
Please note that due to the Coronavirus we are unable to meet face to face indoors at the moment. All our unit leaders have been working through this period to keep the girls engaged via Zoom, email and post. Badges have been achieved and lots of activities have been completed.
Our Brownies and Guides asked us to camp this year. Rather than say 'no' we managed to run a Brownie Sleepover (Let's Go Space) and a Guide Sleepover (Pirate Adventure) via Zoom. Everyone had a brilliant time – including the leaders!!