Mothers' Union


The Mother's Union is a worldwide organisation and seeks to support families through practical outreach, prayer and advocating family friendly policies within both government and public life. By supporting marriage and family life, especially through times of adversity, it tackles the most urgent needs, challenging relationships in communities.
All ladies are welcome, married, widowed, divorced or single, you can be assured of a warm welcome to our services and activities. Men are also members of MU.
Branch Officers
Chair: Allison Campbell
Secretary: Cathy Doig
Treasurer: Carolanne Getty
Branch Committee Members
Hilary Boddy, Joan Byers, Rosemary Wilson, Sally Cotter, Geraldine Ramsey and Violet Lucas.
We meet on the 4th Wednesday of the month at 7:45pm in the Stoney Room of the Church Hall and our meetings are open to all.
Pre Mother's Day Fellowship Breakfast March 2017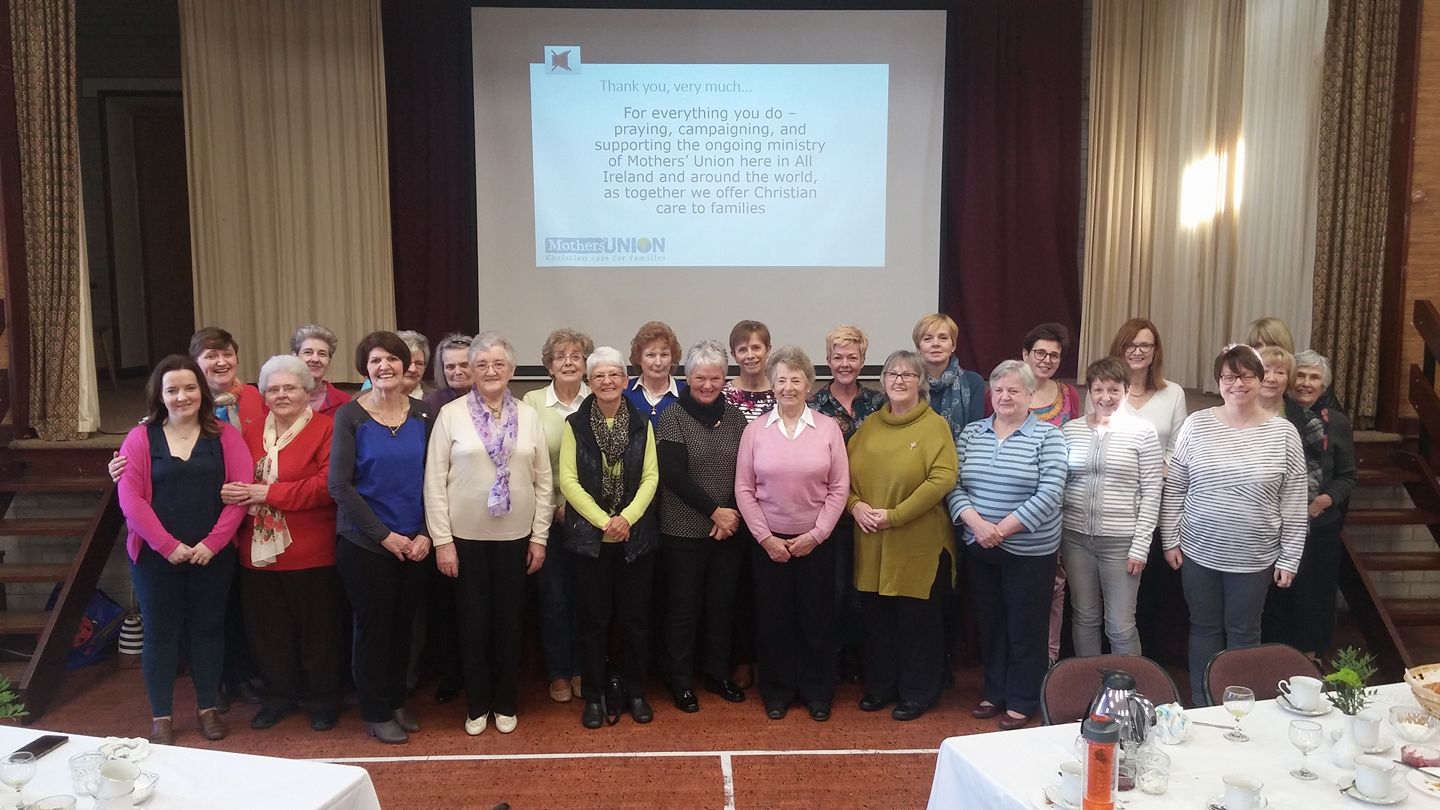 ---
Branch Meetings and Events
February 26th Ash Wednesday – Service in Church at 7:30pm followed by tea/coffee and brief meeting in the Hall.
March 25th 7:30pm Guest Speaker – Brother David Jardine "Equipping For Life".
April 8th Holy Week – Members to attend service in Church at 7:30pm and to serve tea/coffee, Hot Cross Buns afterwards in the Hall.
May 13th 7:30pm – Business meeting to finalize arrangements for Anniversary Service.
June 13th – Outing to Glenarm Walled Garden with lunch.
September 23rd 7:30pm – Opening Service of Holy Communion.
October 28th 7:30pm – Possible Visitor's Night "The Garden Village of Ulster" (TBC).
November 25th – Christmas Night and 16 days vigil.
January 27th 2021 – AGM
PRAYERS
The Mary Sumner Prayer
All this day, O Lord, let me touch as many lives as possible for thee; and every life I touch, do thou by thy spirit quicken, whether through the word I speak, the prayer I breathe, or the life I live. Amen
The Mothers' Union Prayer
Loving Lord, We thank you for your love so freely given to us all. We pray for families around the world. Bless the work of the Mothers' Union as we seek to share your love through the encouragement, strengthening and support of marriage and family life. Empowered by your Spirit, may we be united in prayer and worship, and in love and service reach out as your hands across the world. In Jesus' name. Amen